Escape from Where We Are (2021)
Aluminium, chrome plated steel, flour, found object, glass, Japanese paper, leaf, paint, perspex, plaster, plastic, plywood, powder coated mild steel, string, wax
Dimensions variable
The installation
Escape from Where We Are
is my response to the experiences of staying at home and traveling during the pandemic restrictions between London, Paris and Taiwan, reusing, refiguring and dismantling found materials and objects. I collected most of the materials from streets in Paris and the abandoned childhood home I lived in again briefly during my quarantine in Taiwan.
[Detail] Glass, plaster, powder coated stainless steel
Future Message (
2021)
Aluminium, Japanese paper, mild steel, paint, plywood
73 x 50 x 22 cm
'Future message' on hinged panels in the shape of a French First
Aid sign examining our need for superstitious beliefs and certain
collective behaviours in times of stress. In Taiwan people often
visit the temple to get a 'future message'. By putting a coin in a
slot you receive a number referring to your message like an
automated fortune teller, easing the believers' anxiety and stress.
Three red 'Pig Coins' made in Perspex are wedged between wire shelves from a fridge I found in Paris. These "Pig Coins" are similar to tokens used in casinos and might be connected to buying some kind of future message or even crypto-currency.

Sundance (
2021)
Chrome plated steel, found object, glass, leaf, paint, plaster, powder coated stainless steel
40 x 40 x 160 cm
Reflecting my belief in the potential of objects to heal, the glass snake in the sculpture entwined around a palm tree made from objects collected from my home, refers to the ancient Greek symbol for health and medicine. A plant pot filled with recycled glass sand stands on a column made of green plaster Canelés (French pastries). I also included other found objects and leaves from tropical plants that for me represent the exotic and the history of colonialism.
A baguette and a glass sausage are from the nostalgic memory of a normal day spent at a cafe and walking on the streets in France. Underneath the baguette, there is a Hungarian text on a block of wax butter saying:
Enjoy your meal!
I Never Promised You a Wonderland (
2020)
Installation view @
Barbican Art Trust Group
It is a new set of works made in response to a 6-week residency at The Barbican Arts Group Trust.
During the residency, I explored the absurdity of life and the fragility of human beings through looking at certain belief systems seen as universal across all cultures of mankind. Setting aside religion, there are numerous ordinary objects designated to offer us false hopes and reassurances. The blind belief we tend to have in objects such as Bonsais, mineral stones, horseshoes, four-leaf clovers, or rabbit feet have created expectancy in our subconscious mind and keep us weathering through the unknown future. Worshiping such deified objects evokes profound emotional responses and further changes our neural functioning. I chose certain symbols that represent just such responses and painted them onto small wooden altars.
At the centre of the exhibition is a moving model train with pine needles in the cargo, traveling through a miniature wonderland of stones made of chicken wire, plaster and paint. The constant motion of the train on the oval rail symbolises the flow of life. Alongside, there is a golden made-to-measure hotel luggage trolley, a stand-in for the fast paced lifestyle and a reminder of how people constantly check-in and out of our lives. Silkscreen printed aluminioum sheets and lottery ball sit against the walls, standing in as flashbacks of old memories that I captured for years.
Humorist R. E. Shay is credited with the witticism," Depend on the rabbit's foot if you will, but remember it didn't work for the rabbit."
Wonderland (
2020)

Chicken wire, concrete, horse shoe, mild steel, model train, paint, pine needles, plaster, scratch card
133x 80 x 40cm
Moon Stone (
2020)

Chain, chicken wire, hook, paint, plaster, plywood
33 x 22.5 x 37 cm
Han-Kengai (
2020)

Clay, hinge, paint, plaster, plywood
33 x 22.5 x 37 cm
Maneki-neko (
2020)

Hinge, paint, plaster, plywood
33 x 22.5 x 37 cm

Four Legs Good, Two Legs Bad (
2020)
Plywood, print, plaster, bronze, foam, plexiglas, mesh metal, steel,
130 x 28 x 50 cm
It represents a flash of memories of my family motoring on highways towards a massive supermarket in a suburb. Looking out from the window, there are sometimes trucks filled with living pigs passing by. They are all crammed in the boot; I can only picuture their looks from the ears, noses and tails.
This work consists of 12 whimsical pig trotters, made of plaster and pigments, displayed on a wooden shelf as the rear of the vehicle, lining up repetitively in a manor of ballerinas feet. Among them, one casted in bronze is mythicised into divine figures. The absence of other body parts indicates that those are merely the leftovers in their capitalist world, and the contect depics how the rapid political and economic changes have implacted our perceptions on things. The light-on number plate "Pig 1688" illustrates a popular obsession with the supersitiions that the right conbination of numbers can bring you plenty of good lucks and fortune, accomplanied by a piglet grounted sound playing in loop, echoing the space.
Installation view @
PeakLondon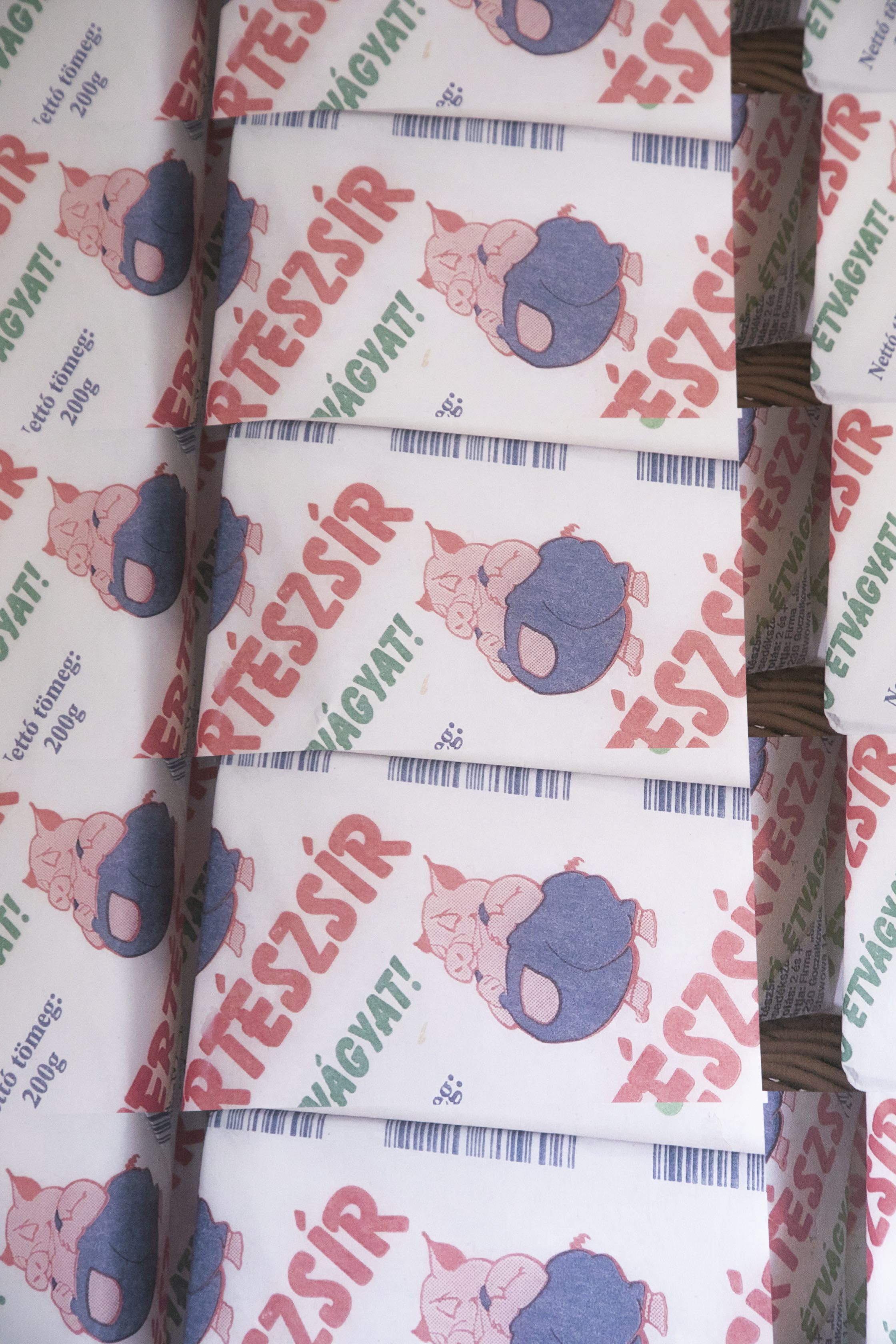 Installation view of Prawns & Pigs @4Cose
Everything about Prawns (2019)

Bait, bronze, cigarette end, clay, gelatine silver print, liner, paint, perspex, pine wood, plaster, plywood, mesh metal, mild steel, sound (00:01:02), video (00:06:39), wax

Dimensions variable

The installation consists of several sculptures, two photographs, one video and sound, reproducing a leisure activity - indoor prawn fishing. This usually takes place in suburban industrial sites, as a hub and community centre for working class. My aim is to discuss how this social activity develops a broader approach towards bodily labour, culture and political economy.
The pond is made into an octagonal shape as a symbol of good fortune, with a bait of dried prawn situated in the middle, dissolving through time. There are piles of crates with hundreds of clay prawns aside waiting to be dropped into the pond for the next round of momentary pleasure.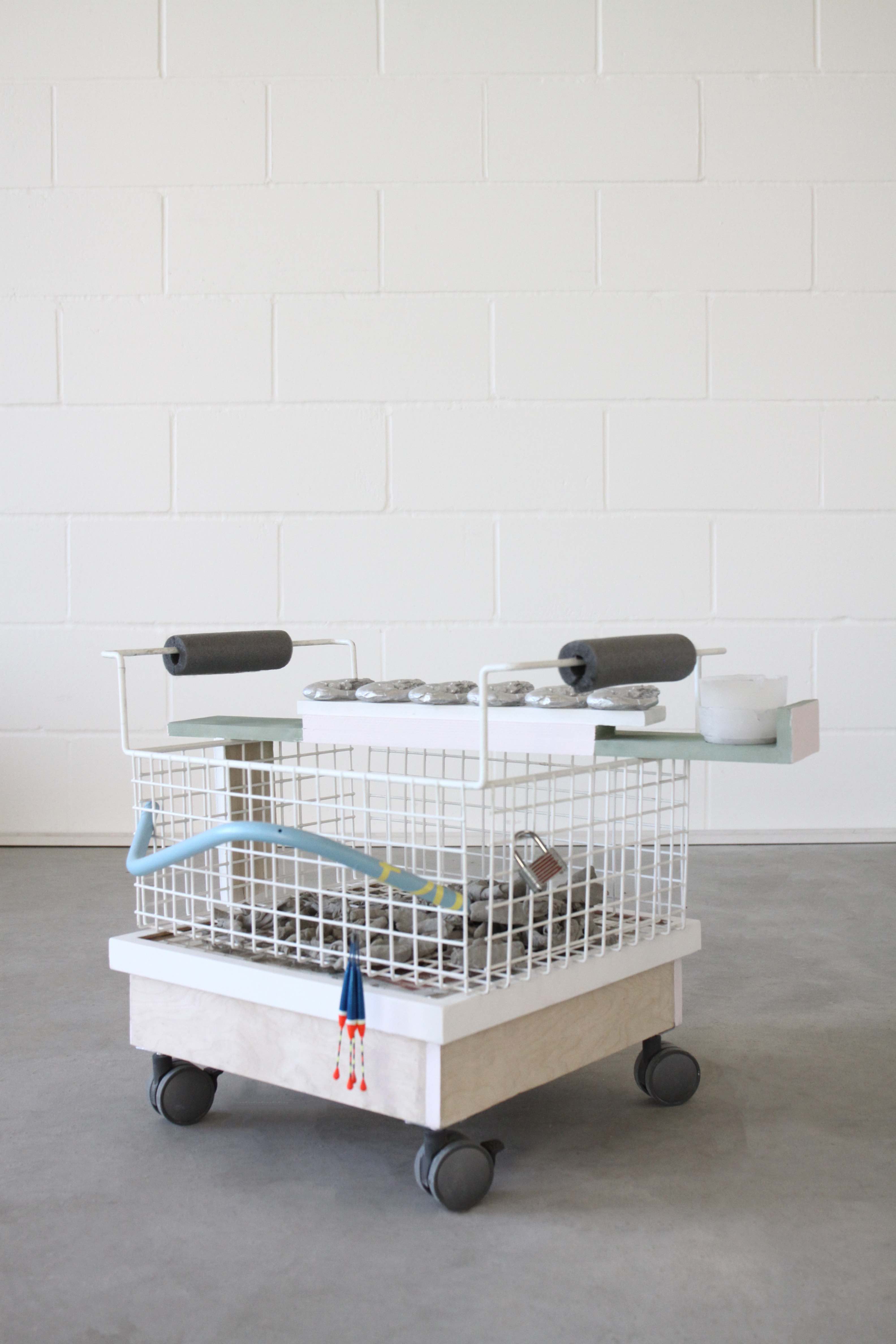 Pay for Your Pleasure
(2019)
Bait, foam, found object, key, locker, mild steel, plaster, print, plywood, vinyl
53 x 35 x 50 cm
It discusses the current production of prawns, which is responsible for environmental degradation in the future, such as the destruction of mangroves, wetland, coral reefs, destruction of marine and coastal biodiversity and mass drowning of sea animals and other species. It has also been linked to the entire ecosystem with the ever-growing world population and rising of consumption.
It is an interactive work which audiences are encouraged to move a crate filled with clay prawns on a mobile wooden dolly. During the process, fragments of fragile prawns will inevitably fall to the ground; the floor is spread out with a compressed geographical pattern of destroyed environmental view.
In the video presented in the old monitor on teh ground, elder woman peeled prawns in an antiquated fishing village in Netherlands, the assembly line of clay prawn making process by I myself and ending with clips of prawn catching from fishemen at the sea.
Superorganism
(2019)
Bait, clay, foam, hook, pigment, plexiglas, plywood, vinyl
25 x 38 x 9 cm
Environmental health has attracted much attention from the public due to challenges associated with climate change and micro plastic pollution. The impact of 'invisible' chemical pollution on wildlife health shares the connection of fleeting or shifting appearances, with an undercurrent of psychedelic experience.
Shattered Memories
(2017)
It is a series of works deeply related to my personal life experinece. I believe that clothes have the ability to carry people's traces, serving as the signposts in the search for the past. In this project weary trousers were combined with plaster and transformed into new sculptures that contain specific time frames and correspodent memories. As time is inscrutable in a way that space is not, this is my attempt to concretise the abstract, the landscape of life into a weighty, monochrome cube/ boards.
Shattered Memories 1
(2017) Plaster, black trousers, 25 x 25 x 25 cm
Shattered Memories 2
(2017) Plaster, leather jacket, 25 x 25 x 25 cm
Shattered Memories 3
(2017) Plaster, pigment, Dimensions variable

After Christmas (2015-)

An ongoing project since the winter of 2015 in Berlin.
It was there I witness street corners and back alleys
littered with sad and brittle trees. The sight of
abandoned trees lying on the roads without baubles
and decorations. A living-dead material, an indoor
preserved nature contains a dense sense of loss and
sorrow. It has inspired a serious of works dedicated
to them over past few years.




After Christmas
(2015)
Silkscreen printed on plexiglas
120 x 80 cm
35mm films in Berlin, 2015
After Christmas
(2017)
Silkscreen printed on plexiglas, brick
50 x 40 cm
35 mm film in Leipzig, 2018