Everything about Prawns (2019)

Plywood, clay, plexiglas, plaster, bronze, mesh metal, steel, wax, crate, cigarette end, silver gelatin prints, liner, wood stick, video (06:38), paint, sound (01:02)

200 x 200 x 180 cm

The installation consists of several sculptures, two photographs, one video and sound, reproducing a leisure activity - indoor prawn fishing. This usually takes place in suburban industrial sites, as a hub and community centre for working class. My aim is to discuss how this social activity develops a broader approach towards bodily labour, culture and political economy.
The pond is made into an octagonal shape as a symbol of good fortune, with a bait of dried prawn situated in the middle, dissolving through time. There are piles of crates with hundreds of clay prawns aside waiting to be dropped into the pond for the next round of momentary pleasure.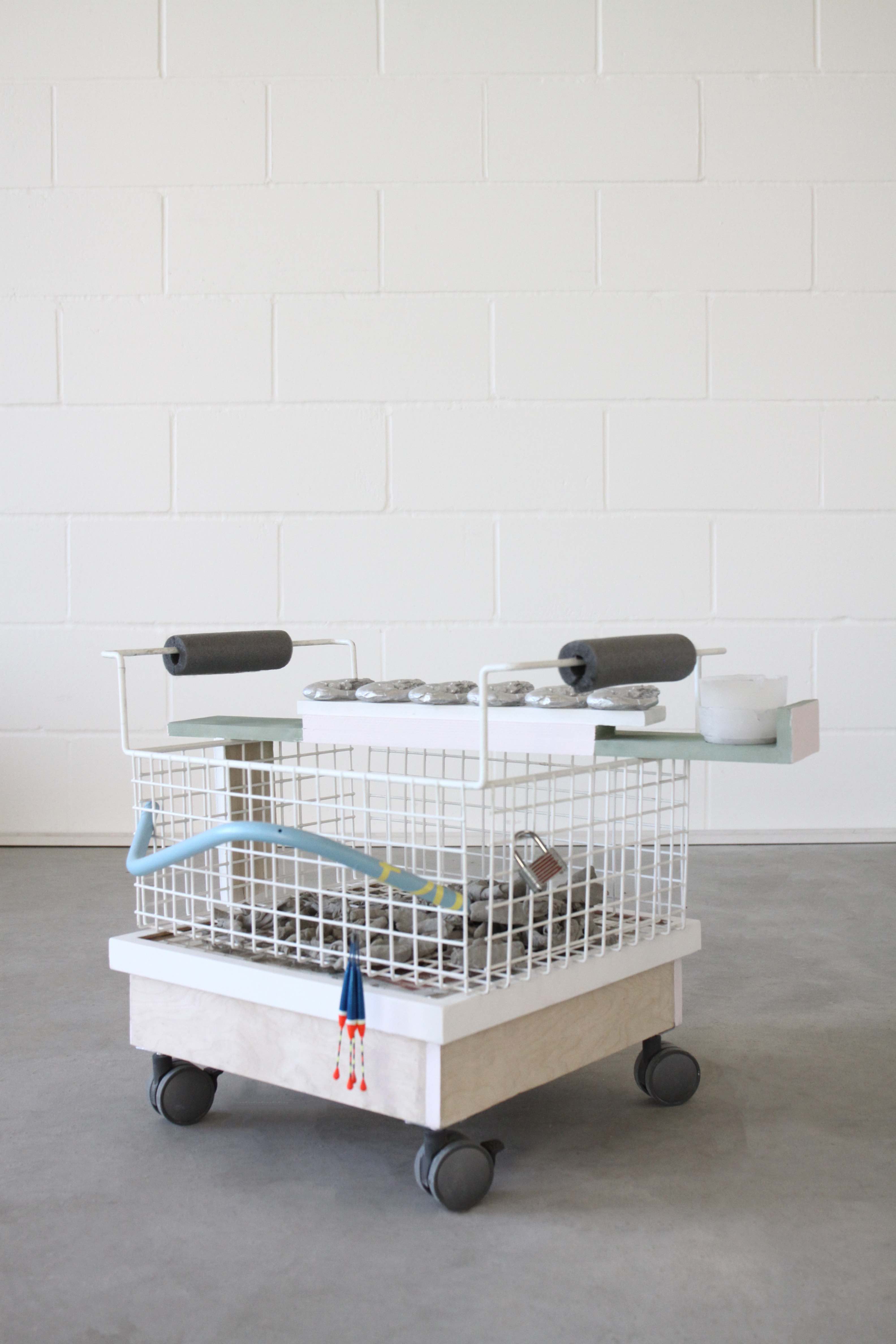 Pay for Your Pleasure
(2019)
Plywood, wheel, float, clay, steel, plaster, foam, wax, lock, vinyl
53 x 35 x 50 cm
It discusses the current production of prawns, which is responsible for environmental degradation in the future, such as the destruction of mangroves, wetland, coral reefs, destruction of marine and coastal biodiversity and mass drowning of sea animals and other species. It has also been linked to the entire ecosystem with the ever-growing world population and rising of consumption.
It is an interactive work which audiences are encouraged to move a crate filled with clay prawns on a mobile wooden dolly. During the process, fragments of fragile prawns will inevitably fall to the ground; the floor is spread out with a compressed geographical pattern of destroyed environmental view.
In the video presented in the old monitor on teh ground, elder woman peeled prawns in an antiquated fishing village in Netherlands, the assembly line of clay prawn making process by I myself and ending with clips of prawn catching from fishemen at the sea.
Superorganism
(2019)
Plywood, foam, float, vinyl, clay, hook
25 x 38 x 9 cm
Environmental health has attracted much attention from the public due to challenges associated with climate change and micro plastic pollution. The impact of 'invisible' chemical pollution on wildlife health shares the connection of fleeting or shifting appearances, with an undercurrent of psychedelic experience.

Four Legs Good, Two Legs Bad (2020)

Plywood, print, plaster, bronze, foam, plexiglas, mesh metal, steel,
130 x 28 x 50 cm
It represents a flash of memories of my family motoring on highways towards a massive supermarket in a suburb. Looking out from the window, there are sometimes trucks filled with living pigs passing by. They are all crammed in the boot; I can only picuture their looks from the ears, noses and tails.
This work consists of 12 whimsical pig trotters, made of plaster and pigments, displayed on a wooden shelf as the rear of the vehicle, lining up repetitively in a manor of ballerinas feet. Among them, one casted in bronze is mythicised into divine figures. The absence of other body parts indicates that those are merely the leftovers in their capitalist world, and the contect depics how the rapid political and economic changes have implacted our perceptions on things. The light-on number plate "Pig 1688" illustrates a popular obsession with the supersitiions that the right conbination of numbers can bring you plenty of good lucks and fortune, accomplanied by a piglet grounted sound playing in loop, echoing the space.
Installation view @
PeakLondon
Pigpigpig
(2020) Clay, sound (01:02), Various dimensions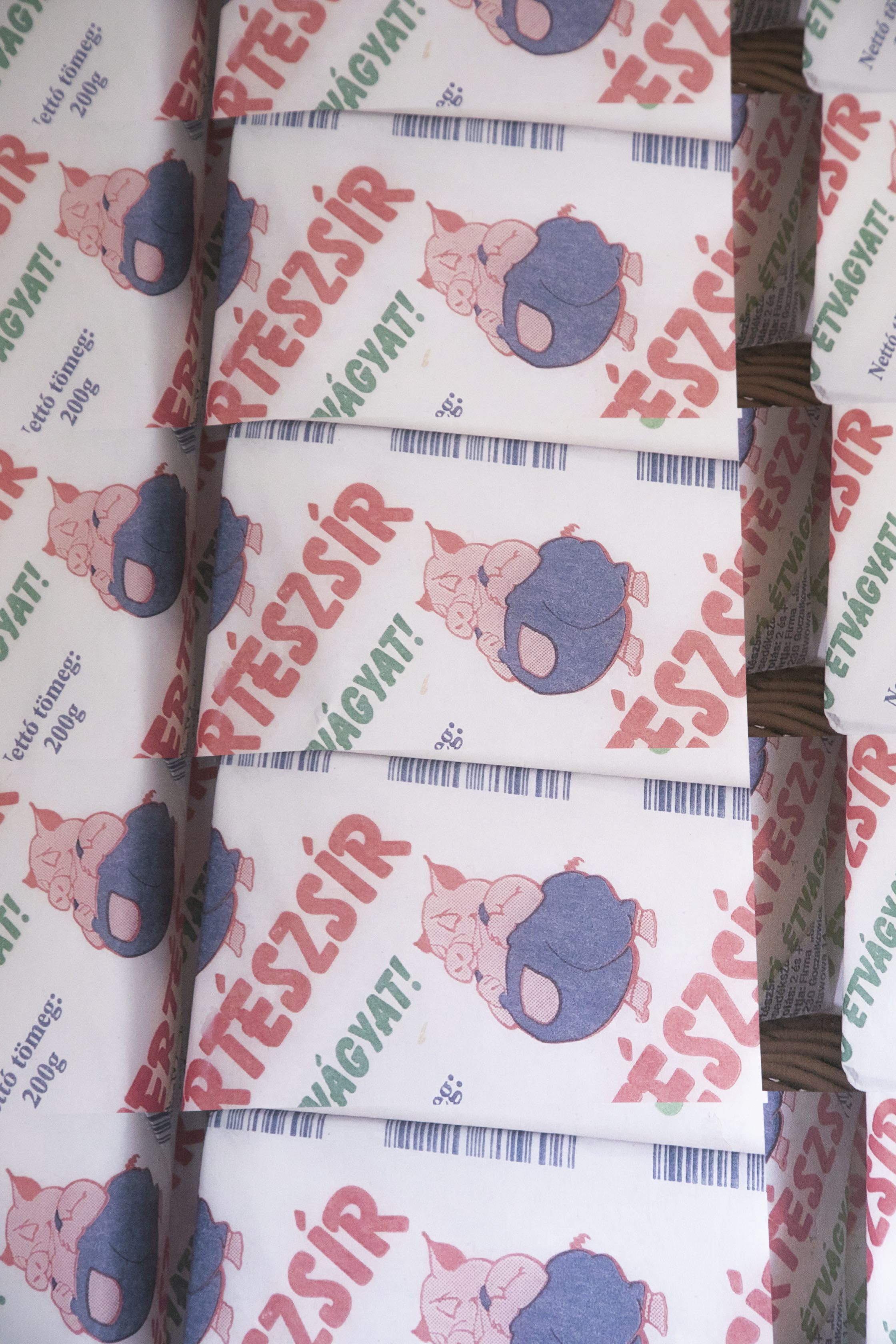 Installation view of Prawns & Pigs @4Cose



I Never Promised You a Wonderland (2020)


It is a new set of works made in response to a 6-week residency at The Barbican Arts Group Trust.

During the residency, I explored the absurdity of life and the fragility of human beings through looking at certain belief systems seen as universal across all cultures of mankind. Setting aside religion, there are numerous ordinary objects designated to offer us false hopes and reassurances. The blind belief we tendto have inobjects such as Bonsais, mineral stones, horseshoes, four-leaf clovers, or rabbit feet have created expectancy in our subconscious mind and keep us weathering through the unknown future. Worshiping such deified objects evokes profound emotional responses and further changes our neural functioning. I chose certain symbols that represent just such responses and painted them onto small wooden altars.


At the centre of the exhibition is a moving model train with pine needles in the cargo, traveling through a miniature wonderland of stones made of chicken wire, plaster and paint. The constant motion of the train on the oval rail symbolises the flow of life. Alongside, there is a golden made-to-measure hotel luggage trolley, a stand-in for the fast paced lifestyle and a reminder of how people constantly check-in and out of our lives. Silkscreen printed aluminioum sheets and lottery ball sit against the walls, standing in as flashbacks of old memories that I captured for years.



Humorist R. E. Shay is credited with the witticism," Depend on the rabbit's foot
if you will, but remember it didn't work for the rabbit."

Han-Kengai (2020) Plywood, paint, clay, hinge, 33 x 22.5 x 37 cm



Maneki-neko
(2020) Plywood, paint, plaster, hinge, 33 x 22.5 x 37cm
Angelo Parodi
(2020) Pinewood, paint, printed paper, 12 x 22 x 40 cm
Play Now
(2020) Wood, lottery ball, scratch card, 20 x 3 x 58 cm
Moon Stone
(2020) Plywood, paint, chicken wire, plaster, chain, hook, hinge,
33 x 22.5 x 37 cm
Installation view @
Barbican Art Trust Group
Shattered Memories
(2017)
It is a series of works deeply related to my personal life experinece. I believe that clothes have the ability to carry people's traces, serving as the signposts in the search for the past. In this project weary trousers were combined with plaster and transformed into new sculptures that contain specific time frames and correspodent memories. As time is inscrutable in a way that space is not, this is my attempt to concretise the abstract, the landscape of life into a weighty, monochrome cube/ boards.
Shattered Memories 1
(2017) Plaster, black trousers, 25 x 25 x 25 cm
Shattered Memories 2
(2017) Plaster, leather jacket, 25 x 25 x 25 cm
Shattered Memories 3
(2017) Plaster, pigment, Dimensions variable

After Christmas (2015-)

An ongoing project since the winter of 2015 in Berlin.
It was there I witness street corners and back alleys
littered with sad and brittle trees. The sight of
abandoned trees lying on the roads without baubles
and decorations. A living-dead material, an indoor
preserved nature contains a dense sense of loss and
sorrow. It has inspired a serious of works dedicated
to them over past few years.




After Christmas
(2015)
Silkscreen printed on plexiglas
120 x 80 cm
35mm films in Berlin, 2015
After Christmas
(2017)
Silkscreen printed on plexiglas, brick
50 x 40 cm
35 mm film in Leipzig, 2018
Philippe Parreno said, "Christmas tree is a time marker, a decorative object. A fragment of an urban landscape, a feeling of suburbia, that mimics this weird plant that grows in the winter and dies in January."
An art practitioner based in London, who experiments across media from sculpture, photography, moving image, sound to publication.



2021
Platform Asia x Art Catalyst Residency
, Sheffield, UK
2021
Salón ACME No. 9
⁠, Mexico
2020 36th Annual Open Exhibition, Southwark Park Galleries, London
2020
Scout
, Galleri Heike Arndt DK, Ketting, Denmark
2020
ING Discerning Eye Exhibition
, London
2020
I Missed My Prozac Dose
under Publika Fenestro, Filet, London
2020
I Never Promised You a Wonderland
, Artworks Project Space, London
2020
SupaStore Academy
, Nida Art Colony of Vilnius Academy, Nida, Lithuania
2020
Four Legs Good, Two Legs Bad
, Peak Gallery, London
2020
Fresh Legs
, Galleri Heike Arndt DK, Berlin, Germany
2020 Gilbert Bayes Trust Scholarship, London
2019
ArtWorks Open
, selected by Emma Talbot &Alex Schady, Artworks Project Space, London
2019
Perpetual Shift
, curated by Nicholas Dietrich, the Koppel Project, London
2019
B
, Belmacz, London
2019
neo:art prize
, recipient of neo art prize, Bolton, UK
2019
Tall Tales of the Kitchen Kelpies' soup
, RawLabs, London
2019
Cherry Pickers
, curated by Vincent Crapon & Stilbé Schroeder (Podium), Luxembourg
2019
Pigs & Prawns
, 4Cose, London
2019
RCA WIP Show
, RCA, London
2018
The Ashtray Show West
, Belmacz, London
2018
Bloom Award by WARSTEINER
, nominated, Cologne, Germany
2018
Bauchgefühl
, PILOTENKUECHE, Leipzig, Germany
2018
Fälschung // Fake
, Krudebude, Leipzig, Germany
2018
The Pool
, Alte Handelsschule, Leipzig, Germany
2018
Cabin Pressure
, Ping Pong, Leipzig, Germany
2018
Studioless
, Incheon Art Platform, South Korea
2017
The Mall
, Croydon Art Store, London
2017
The Ashtray Show
, 4Cose, London
2017
CUVETE
, organised by Snow Cannon, Aveiro, Portugal
2017
Water Is Wet
, Stanley Picker Gallery, London
2017
CREEKSIDE OPEN
, selected by Alison Wilding, A.P.T Gallery, London
Here Today,

An ongoing project.
It started with the photograph of an abandoneded bed Steph took.

The bed was gone.


Gone Tomorrow.
We are interested in "found objects" that exist on the street. It comes from our observation of our encounters with objects offered by the contemporary urban landscape. We explore materiality as transience, where the use of analog cameras becomes a peculiar kind of time based sculptural practice.




The act of photographing is a method of mapping, measuring, digging, pouring, mirroring and writing of and on a certain site. For us, what is gone survives as an image but, as such, it is nothing , more than speculative narration. Gone could be there forever - but it may be gone in a second. When we approach the road, the urban texture has already produced accidental compositions waiting to be discovered and recounted. It is the relation between different objects, materials and materials and their undercounted stories that appeals us - not the strictly private and public processes accidentally bringing them together. We do not hesitate to take photos of the randomly occasioned urban material constructions. They end up being together in the same place, for some reason creating a special connection. What is left, then, is the still image to be promptly transferred into analogical and digital forms. The flatness of the photograph embeds the lost materiality of its very subjects. There's no return.

The still images of the objects we collect are then archived, reproduced, digitally duplicated and sculpturally transformed. Multiple realities are expressed through negation and inspiration into variously simulated approaches.

"Photographs are perhaps the most mysterious of all the objectsthat make you thicken the environment we recognise as modern. Photogrpaphs really are experience captured, and camera is the ideal arm of consciousness in its acquisitive mood."

- John Berger


a collobration with Anna Ill in Leipzig in 2018.

Prawns & Pigs, 2019


Pig had been walking for a long time. This was in accordance with a judgment that no one could quite remember. Pig did not remember it, either. Nonetheless, he upheld it.
He had seen the sun set in every way one might imagine. He had seen somber sunsets over the sea. They were the color of flint and then they were the color of a long-abandoned bag of trash. Sometimes, if the land was flat, the sun seemed to crash right out of the sky. It struck the earth with a pathological, almost psychotic intensity. It smoldered and smoked. Pig was sure he would never see it again. Pig said, "The sun had made a foolish promise it could not keep." He had read this somewhere. He had read about these kinds of promises and they were not at all uncommon.
There were times when the sunset took eternity. Even then, the sunset did not inspire him. Pig did not need inspiration. He had a calling, an undertaking. He had a sentence. Pig was sentenced to stay here. Pig's sentence was to walk.
At the broad approach to a nearly motionless river, Pig saw another being moving in the water. The mouth of the river was foamy and still. It was the mouth of a dog with rabies that had been shot, Pig thought. And though the shooting had made everyone sad, they had all agreed it was the only thing that could be done. Their sadness, though, is why the river remained here, like this.
Pig lowered his head inside the river and opened his eyes to the cool, quiet water. Sitting on a large rock, he saw a smooth crescent-shaped figure. He saw legs. He saw eyes. The eyes looked back at him. She was Prawn and he pulled his head out of the water.
His was a solitary sentence. He would not be accused on traipsing or roaming, as one does with another. He would only walk and one walks alone. He yelled at Prawn. She did not understand him or she ignored him. Maybe she loathed him. After some time and thinking, she moved nearer to him.
Without any ceremony whatsoever Pig ate Prawn.
Pig expected something to happen. He expected death or transformation. He expected to be able to breathe underwater, so perhaps he could walk to new places, maybe even see a new type of sunset. He got nothing. He got old.
Pig continued to walk until he fell apart. It started with his ears, then his tail. Pig lost piece after piece of himself until he was nothing but a trotter.
The Story of Pig - Joshua Thomas Lieberman


The Ashtray Show West, 2019


A black and white poster with a cinermatic image of cigarette burn holes on an old armchair is printed over with The Ashtray Show West in mottled white text. Ninety-two ashtrays are lined up on shelves spreading into the floor. Some are from personal collections or bespoke pieces, sentimental, symbolic, rude or idiosyncratic, displayed opposite a collection of delicate jewelry. Both ashtrays and jewelry are universally recognisable forms of adornment that connect to notions of monopoly, materiality and trade.

Invited by Julia Muggenburg, artists Steph Huang and Cullinan Richards itinerant exhibition- The Ashtray Show West - took place at Belmacz, Davies Street, Mayfair W1 in October 2018. This new show presented ninety-two objects as ashtrays and expands The Ashtray Show conceived by Cullinan Richards at 4Cose, Vyner Street E2 in 2017. The early dialogues for The Ashtray Show West began over a spring time lunch in Berlin 2018 whist collectively enjoying the action of smoking.


"We can move our hand across the table and we can move the ashtray. But we cannot move our hand through the tabletop, or across the spot on which the ashtray stands, without moving the ashtray. To putit differently, our possibilities of action are limited."

From Material Objects by W.D. Joske

Ashtray have served as a local point for watching smoking plumes diffuse, looking into the distance, giancing at co-smokers and thinking little.

Steph Huang and Cullinan Richards, London 2019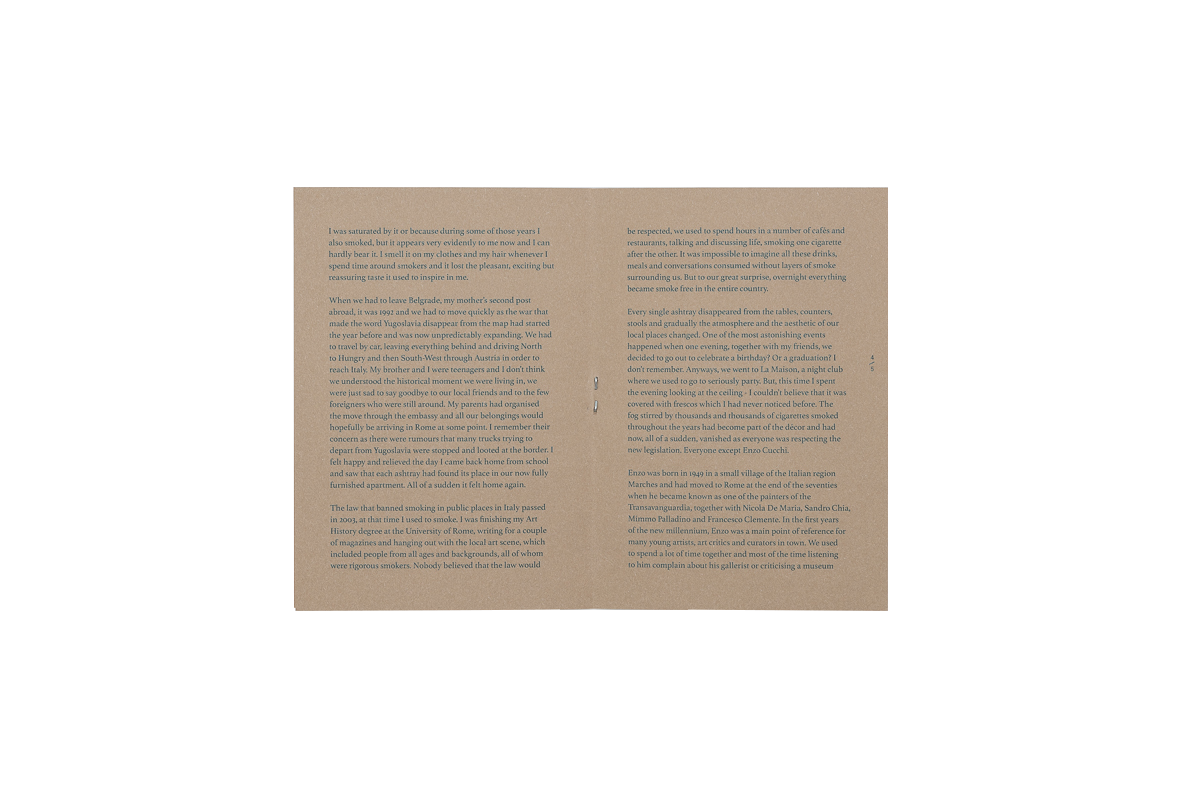 The Ashtray Show, 2018
After Christmas, 2018